TÍTULO / TITLE: Erase una vez X
AÑO / YEAR: 2015
DURACIÓN / RUNTIME: 17'
PAÍS / COUNTRY: España
DIRECTOR / DIRECTOR: Anónimo
SINOPSIS / SYNOPSIS
"Basado en el universo de George Orwell, "X Érase una vez" narra una retrospectiva del poder y del cine como medio de comunicación de masas"
"Based on the universe of George Orwell," X Once Upon a Time "narrates a retrospective of power and cinema as a means of mass communication"

21
2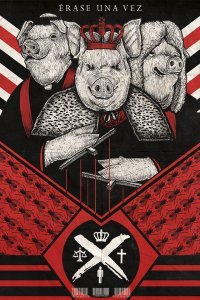 SELECCIONES (21)
21) SurRealidades (Colombia).
20) La Rioja es de Cine (Logroño).
19) Festival de cine de Horror de Guanajuato Aurora (México).
18) Festival Lanterna (México).
17) World Festival of Emerging Cinema (Trinidad y Tobago).
16) Censurados Film Festival (Perú).
15) Independent Horror Movie Awards (USA).
14) Rio de Janeiro International Short Film Festival - Curta Cinema 2015. Sección Wadafocus
13) Zinema Zombie Fest (Colombia)
12) Sustefest 2015
11) FANGOFEST AMPOSTA, Tarragona
10) Festival de cine de Paracho (México)
09) Entretodos Online Festival (Brasil)
08) El Saman Festicine VideoImagen (Colombia)
07) Festival de cine de Horro Macabro de la ciudad de México (México).
06) Trip to Italy (Italia).
05) Russian Horror Awards (Rusia).
04) Short Cup Copa dos Curtas (Brazil).
03) Tlanchana Festival (Mexico).
02) K/O Digital (Barcelona).
01) Cortopatía (Madrid).
PREMIOS (2)
1) Independent Horror Movie Awards (USA). BEST ORIGINAL CONCEPT
2) Entretodos Online Festival (Brasil) Ganador de la Muestra Online